Aircraft History
GLIDERS
Twice size Avenger sail-plane modified for radio-control designed by J A Gorham in the early 1950s and introduced as a kit in 1952 by Contest Kits.  This example performs extremely well when ridge soaring.
The twice size Avenger soaring at South Harting, Hampshire in 2003.
This advertisement appeared in January 1952 Aeromodeller and the kit was offered by East Anglian Model Supplies of Ipswich.  This model was the  original dimensions.

Photograph showing the large span of the Thermalist.
The Thermalist was introduced by designer R Minney in December 1948 for the international sail plane contest at Eaton Bray.  It gained first place against the international opposition.  The model is of all balsa construction and the example shown in the colour photograph was constructed by Graham Knight of the Raynes Park Club in 1999.  The wingspan is a large 137 inches.
Mercury Marauder 65″ Contest/A2. This example constructed by E. Horne.
Introduced in April 1950 for the Continental Class of A2 Sail-planes designed by R F L Gosling.  This example constructed by E Horne.
R U B B E R
UNORTHODOX GLIDER
The Dactyl, flying wing glider, on tow.
This example constructed by E. Horne.
The designer C M Holden pictured with the original model in 1949, wingspan 60 inches.
CONTROL-LINE
A fully-flapped 52-inch span stunt model designed by J W Coasby in 1950 primarily intended for the Fox 35 or other 35 size engines.
This example constructed by M Cummings.
The original Foxstunter powered by a McCoy 35 and published in The Aeromodeller annual in 1950.
This example renovated by M Cummings in 2006
Designed by Alan Hewitt for the Knokke Trophy rules in 1951 and intended for the Elfin 2.49cc Diesel with an overall maximum weight of 12 ounces.  It subsequently won the Gold Trophy in that year.
A large-size stunt control-line model intended for the McCoy 60 or similar 10cc power unit, 68 inch wingspan, flown on 90 foot line.
This example constructed by R Cooper.
Designed by J W Coasby the Aeromodeller staff draughtsman in the late 1940s.  The designer claimed that it cost less than 30/- to construct and finish and was capable of performing every stunt in the book at the time, regardless of weather conditions.
The Fierce Arrow was introduced in 1957.  Designed by W F Netzeband Jnr.  It was in the style of a combat model but was intended for stunt flying with speeds of around 60mph – 65mph.
An original photograph from 1957.
FREE-FLIGHT POWER
This Mark l Junior 60 is powered by an ED Hunter 3.46cc Diesel engine.  The model has been adapted for radio use.
Renovated by A Benardout.
The Junior 60 was designed primarily as a free-flight model by Albert E Hatfull for KeilKraft.  Recommended power unit was the Keil K6 petrol engine.  Since its introduction in 1946 large numbers have been built and many were used for radio-control pioneering work in the 1950s.
The Skyleada Zipper was a high-performance duration model based upon an American design and produced in Britain by Skyleada at Mitcham, Surrey.
This example  constructed by S Willis and powered by an ED Comp Special.
The Zipper was produced in two sizes; 44-inch wingspan & 31-inch wingspan for the ED Bee or Mills engine.
Designed by Paul Plecan.  A 48-inch span model.  This example constructed by A Holmes for the Mills 1.3 Diesel.
The designer, Harry Hundleby, with Sparky pictured in 1951.
Period photograph of the Sparky in flight powered by an Albon Javelin 1.5cc Diesel engine.  The Sparky was an early post-war radio-control model using ECC radio equipment of the time.
1937 Super Buccaneer designed by Bill Effinger of Berkeley Kits, USA.
This example constructed by G Knight and powered by an Ohlsson 60
ignition engine.
This example of the Mamselle, a popular 36-inch sports model is powered by a D.C. Dart 0.5cc.
The Mamselle was introduced in December 1955 and intended as a sports model for the point five range of diesel engines available at the time.
The designer Norman G Taylor of the Wimbledon Power Club pictured in 1950 with the original Lazybones.  The Taylors were proprietors of two model shops in South London: one at Kingston Road, Wimbledon and also at Upper Richmond Road, Putney.
Probably one of the most successful control-line models ever.  Introduced in 1958 by ace american designer, George Aldrich as a combat model but is also a very popular stunt trainer.
This example constructed by M. Cummings for an Oliver Tiger Mark lll.
The original heading for the article from February 1958 Aeromodeller by George Aldrich describing combat flying with the Peacemaker using both diesel and glowplug engines in the 2.5 – 3.5 cc class.  Speeds ranged from 65mph to 80mph.  A variant of the Peacemaker were the Flight Streak which flew in excess of 100mph with a Fox Combat 35.
This example of a Cloud Elf ignition-powered by the late Ray Page
Period photograph showing happy modeller with his newly-constructed Cloud Elf
Original advertisement from June 1939 showing the Cloud Elf which was kitted by the Cloud (Model) Aircraft of 304-6 High Street, Dorking, Surrey.
The span of the model is 52 inches.
Designed by US Designer Ken Willard with a flat-bottomed hull and pontoons for easier water take-offs, this amphibian was introduced in 1951 in Model Airplane News.  This example constructed by A Tomlin.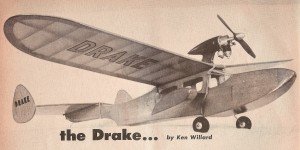 Drake
The Elite Elf 20″ rubber model.  This example constructed M Jagger in 2012.

An original advertisement for the kit.
The designer was Albert Hatfull.
Introduced in September 1947 as a petrol powered free-flight model of 60″ span.  It was later revised for radio control in the 1950s and later kitted in the 1970s.  This example by M Cummings.
Designed by Sal Taibi in 1948.
This example constructed by G Knight.
Introduced as a ultra light-weight radio-controlled model in 1958 by U S designer Bob Coon.  This example constructed by G Knight.
Photograph of the designer Bob Coon with the original 22-inch span model which weighed with equipment just 8 ounces.
The power unit was the Cox Pee Wee motor (.020 cubic inches).
The model was claimed to be aerobatic

The model with the original "Deltron" equipment.